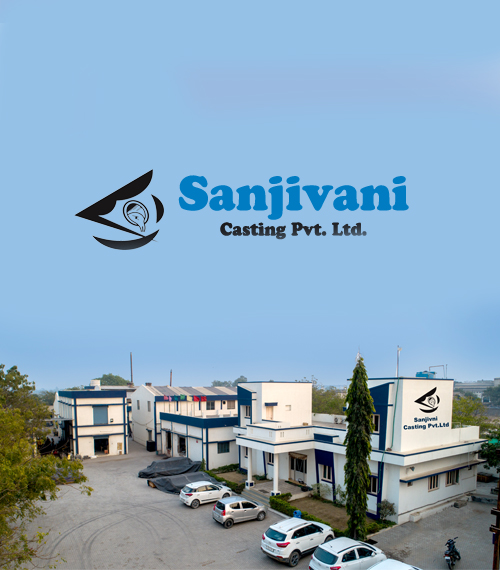 why choose us
Welcome to Sanjivani Group of Companies….
Sanjivani Casting Pvt. Ltd., is a flag ship Company of Sanjivani Group. Established in the year 1999 by a group of young Entrepreneurs & lead by most respected and experienced personnel in the foundries.
Sanjivani Castings Pvt Ltd., started with a moderate capacity of 100 tonnes per Annum with a vision to cater to growing Export Market Demands especially from European and USA markets for the Investment Castings from Asian region. The Company with its core competency in the field of supplying Castings to Pumps & Valves and General Engineering segment Industries never had to look back upon. Within a span of 2 decades Sanjivani Group boasts the Annual Revenue of US $ 32 Million and huge production capacity of 4800 MT/per annum. Over 70% of our Revenue is coming from Export Markets spread over in European Region like Germany, France, Swiss, Netherland, Spain, Italy, Poland, Denmark, Sweden, Finland, Scotland, Ireland, UK and many more countries. Our customer base also spread over countries like Japan, Singapore, China, Canada. Some of the Fortune 500 Engineering Companies from United States of America are our esteemed clients.
Keeping in view the Customer-centric approach, company with it professional and dedicated team ensured to meet the market demands of High-Class Quality, On-Time-Deliveries, and HSE Compliances which was the need of the hour to sustain in the stiff international competition. The Company during last 2 decades by virtue of its dedicated efforts and re-investing the resources in augmenting the capacities have achieved a phenomenal growth of 20% YOY. Today, over 200 Customers, world over are catered for their requirements of Castings and Components in duly ready to use condition with delivery schedules week by week, month by month as per their planning. We also provide our customers the assured consistent supplies by appropriate Safety Stock Agreements devised as per individual needs.
Today the Sanjivani Group proudly possess 3 Investment Casting Plants and a Huge Steel Sand Casting Facility to cater to growing demands of markets. Some of the Mile Stones achieved by the company are:
Sanjivani Casting Pvt Limited Established in 1999.
ISO 9001 Certification and PED certification since 2004
Commissioning of New Investment Castings Facility Sandori Castings Pvt Limited in the year 2007.
Addition of its own most modernized Heat Treatment Facility & CNC Machine Shop for dedicated usage Shakti Engineers in year 2012.
Commissioning of Steel Sand Casting Facility with No Beck Process technology and Automated Mold Handling Systems, Helios Syscom Pvt Limited. In the year 2014
Addition of CNC Machining facility with 4 Axis CNC HMC VMC to handle bigger castings machining up to 600 mm Dia. and 500 mm Height In year 2015.
Commissioning of New Investment Casting Plant Aksunna Technologies Pvt Limited in the year 2018 with German Business Partners.
Sanjivani Group is well known as Global Leaders for manufacturing and supplying a wide range of High Performance, Critical Safety Components & Castings for the Valves, Pumps, General Engineering, Automotive, Defense, Aerospace-Nuclear application in Stainless Steel, Carbon Steel, Duplex Steel, Super Duplex Steel and Exotic Supper Alloys like Nickel Base, Cobalt Base, Copper Based Grades investment/Sand Castings with world class Quality, More than 10000 components are developed in as much as 200 different types of Alloys meeting to all International standards like ASTM, DIN, EN, IS, JIS, GOST etc.,
All the plants are using modern Engineering professional tools like KANBAN, ERP, QMS, APQP, PPAP, 5S, HRMS to ensure meeting the customer specific requirements to latest International Standards. All the processes are measured/monitored through lean manufacturing principles by adopting the Continuous Improvement. Sanjivani Group is approved by over 35 certifying International Agencies with their stringent audit procedures and many of the Companies from Europe, USA have provided us Green Channel status after their individual audits. We follow the best IT practices and all the information shared with us are strictly maintained in confidential to protect the Customers IPR.
We offer the best work environment free from any Hazardous substances, All Safety Equipment/Appliances are provided for Injury/Accident free work environment and we monitor continuously the excellent Ergonomics.
Give us your toughest requirements, provide us your wild imagination and our well qualified and experienced team would be able to provide you a cost effective solutions in the shortest time.
NUMBERS SPEAK
Easy Way to Collaborate
Of Sanjivani Group of Companies
WHAT WE DO
Know More About Us
Overview Sanjivani Group of Companies
• $32 + million in annual revenue
• Two major segments like Valves & Pumps parts
• 200 + type of material produced
• 900 + employees
• Nearly 25 years of entrepreneurial success
• 40 + Certifications
• Growth rate > 20 % every year
Client 6

Client 2

Client 3

Client 4

Client 5

About Us