Young and Dynamic Team of well-qualified, professional Engineers and Technicians is always eager to satisfy the quality needs of our Customers and is totally committed to achieve "Customer Delight" by
Providing the transparent Inspection parameters
On line Quality checks and quality audits.
Continually improving the QMS parameters.
Positive Communication and monitoring Customer Complaints.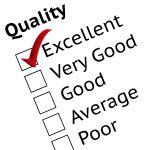 All our products have defined quality plans conforming to quality system plans and customer specific Quality Plans. The Quality systems are with the approved processes like ISO  9001 :2015 and AD 2000 PED certification. The Product Manufacturing Processes are well monitored by SPC and Process Capability Improvement study would be adopted for manufacturing processes wherever required.
Our commitment to quality is second to none and we are aiming "Zero" defect policy.
Quality Assurance